Materflow manufactures 3D printed metal and plastic parts for industrial use.
Jigs, tools & spare parts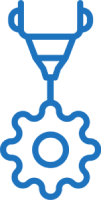 3D printing, metals
Metal 3D printing is a solid option to replace molding, milling or machining. 3D printing is a cost effective method to manufacture parts in smaller series or parts with intricate geometries which can be difficult or impossible to produce with conventional technologies. Depending on the part switching from machining to 3D printing might lower the production costs significantly. Read more about our metal materials and production machines.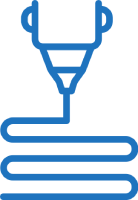 3D printing, plastics
Plastic parts printed on industrial production machines are completely comparable in mechanical and chemical properties to parts made by traditional methods. Production costs are also often much more reasonable, especially for prototypes and products produced in small series. Because of the production speed, the processes of product development and design are greatly accelerated. Read more about our plastic materials and production machines.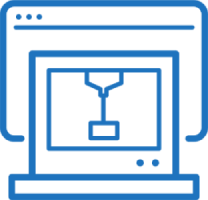 3D spare parts
Contract manufacturing and on-demand production of 3D spare parts lowers costs and improves efficiency. Several studies have shown how businesses can save significantly on manufacturing and storage costs through digital catalogue and on-demand deliveries for spare parts. A digital product catalogue and 3D printing makes it easy to update or customise parts, streamlines your supply chain, and speeds up deliveries. Read more about 3D spare parts.