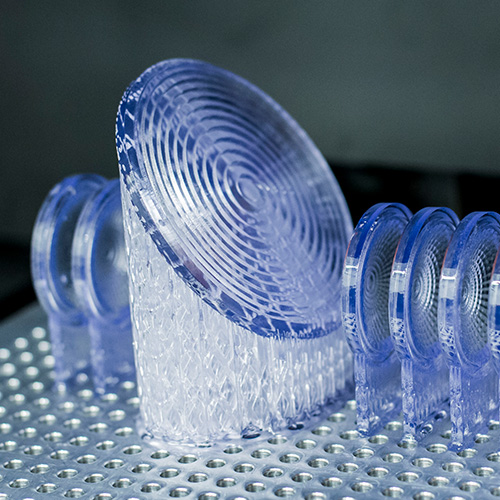 E-Glass
E-Glass is a translucent material. The optical properties can be influenced with surface treatments: the printed part can be rendered either optically clear or opalescent translucent. E-Glass provides precise details and a smooth surface finish. While in print mode the parts require structural supports which are removed after printing. Typical applications include prototypes and in some cases end products. Commonly used in:
Light guides
Educational purposes e.g. flow models
Silicone casting (master molds)
Lamp profiles and hoods
3D Printing Technique: Stereolithography (SLA)
Build chamber/max size: 266 mm x 175 mm x 193 mm
Layer thickness: 50 – 100 um
Dimensional accuracy: ± 0,25mm + ± 0,1mm/100mm
Support material: Printed material
Read more:
> Technical Information
> About Stereolithography
E-glass is a UV-curable resin that will continue the UV reaction after manufacture. The material is not suitable for end use products exposed to mechanical stress.
Brightness and translucency can be modified with a variety of post processing treatments. Polishing adds opacity while lacquer brightens the part.
Wall thickness
The recommended wall thickness is 1 mm. Structures smaller than this are very fragile and may not withstand the post processing treatments. After production the pieces are washed in alcohol and the supports are removed.
Inside & outside font labels
Inside and outside texts and labels are possible to print depending on the font size, depth/hight of the text and the orientation when printing. Consult our experts for more information.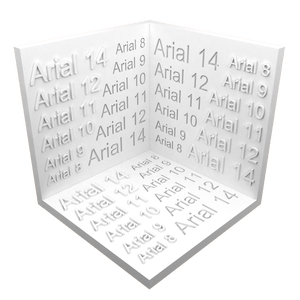 Warping
After printing thin areas may warp during UV curing. The warping effect is minimised with good design and production management.