VAT Photopolymerisation
The process is based on hardening of photopolymers on exposure to the ultraviolet light.
ULTRA 3SP
EnvisionTEC's ULTRA 3SP Series 3D printers use a 3SP (Scan, Spin and Selectively Photocure) technology to quickly 3D print highly accurate parts regardless of the geometric complexity. The surface quality of the printed models show very little signs of stairstepping on the inner and outer surfaces.
TECHNICAL PROPERTIES
Maximum printing dimensions: 260 mm x 175 mm x 193 mm
Layer thickness: 0.05 mm / 0.1mm
Support: The vat material is used in supporting the parts on the build platform
3SP TECHNOLOGY
You might have heard about Stereolitography, a vat photopolymerization technology. We use 3SP: Scan, spin & selectively photocure. This technology was developed by EnvisionTec and it falls into the stereolitography category but is technically different.
Below is a depiction of the standard Stereolitography (SLA). A laser and scanning system draws a pattern against a platform that slowly sinks into the photopolymer forming the part on top of supports or directly to the platform.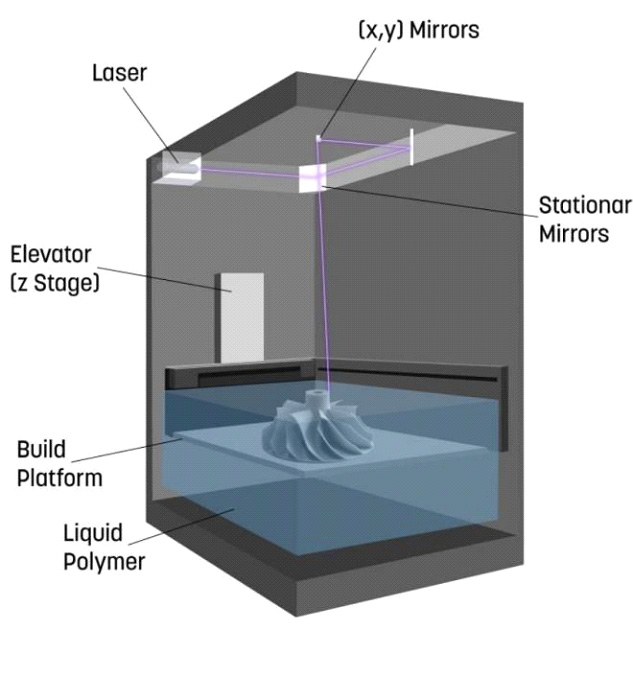 3SP works a bit differently. A Laser assembly moves over the photopolymer VAT and quickly scans on the X axis. It essentially scans one axis at a single pass. It can build parts by going back and forth very quickly.
Here is a detailed image of the laser assembly. It has a mirror spinning 20,000 RPM and this is what makes it so fast. The build speed for the entire build envelope is 10 mm depth per hour.
MATERIALS
There is a wide array of materials available for this technology but we ended up choosing two based on the feedback from our customers:
ABS TOUGH
A white ABS-simulating material which is often used in printing prototypes. The resulting parts are highly accurate and smooth. There are a lot of benefits in printing prototypes before making molds for mass production such as testing functionality and accuracy. ABS Tough also works for scale models since the outcome is very accurate and easy to paint.
E-GLASS
E-Glass is meant for parts with optical properties. It's also usable in fluid tests to see how currents behave in pipes and structures. We have utilised this material for small serial production of optical parts for led optics and light guides. In raw form E-Glass is translucent and the resulting prints can easily be cleared in post processing with polishing and varnish.
We use two Envisiontech Ultra 3SP printing machines:
Read more about plastic print materials
or contact for more info: