Metal 3D Printing
Advancements in metal alloys push metal 3D printing forward!
Metal 3D printing is used to replace machined or cast parts. 3D printing of metal is a suitable and cost-effective alternative for small-scale production or when in need of products that are difficult or impossible to manufacture with traditional technologies.
The state-of-the-art printing technology we use enables the design and implementation of metal components in a way that directly improves our customer's own competitiveness. The advantage of 3D printing of metal is that the method is suitable for the production of practically any component. Even a complex structure will not cause any problems.
With metal 3D printing also prototyping is easy and efficient.
Read more about the production and the materials used in metal 3D printing.
METAL 3D PRINTING – AN ALTERNATIVE TO MACHINING
In the best case, the transition from machining to printing can significantly reduce the cost of the manufactured part or of a small-series production. The straightforward manufacturing of parts also simplifies logistics and shortens breaks in production.
For example, possible alterations to the parts can be directly made with a design program. The printing method also reduces the need for post-processing, such as welding and assembly. With metal printing we can also create nested and moving parts. When printing metal you only use material where you need it. Any extra weight can be taken off.
Although the 3D metal printed parts can be lighter compared to parts made by machining, they are just as durable. The weight only speaks about the optimized structure.
HARNESS METAL 3D PRINTING AS A COMPETITIVE ADVANTAGE FOR YOUR COMPANY
When it comes to components that are complex in structure or shape, ready-to-use 3D metal prints outperform production using traditional methods. The trickiness of designing, playing with molds and the laborious finishing, as well as warehousing and extra logistics will be a thing of the past.
We will gladly discuss with you more about the many benefits of additive with metal 3D-printing.
Metal 3D-Printing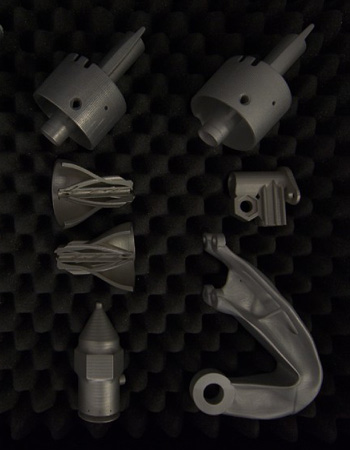 An alternative to machining or in combination.
Suitable for prototypes and small series
A cost-effective method
Durable end result
Reduces the need for assembly
Lighter weight