Metal 3D Printing
METAL 3D PRINTING: UNLEASH THE POTENTIAL OF ADVANCED METAL ALLOYS
Discover the power of metal 3D printing as a cost-effective and versatile alternative to machining or casting. Ideal for small-scale production or complex products, metal 3D printing offers design and manufacturing capabilities that directly enhance your business's competitiveness.
Our state-of-the-art printing technology allows for the production of virtually any component, regardless of complexity. Plus, metal 3D printing simplifies prototyping, making it easy and efficient.
Learn more about our metal 3D printing production process and materials.
WHY CHOOSE METAL 3D PRINTING OVER MACHINING?
In many cases, switching from machining to 3D printing can significantly reduce costs for individual parts or small series production. This straightforward manufacturing process also streamlines logistics and minimizes production downtime.
Modifying parts is as simple as adjusting the design program, and metal 3D printing reduces the need for post-processing tasks like welding and assembly. Our metal printing techniques allow us to create nested and moving parts while only using material where it's needed, resulting in lightweight yet durable components.
EMBRACE METAL 3D PRINTING AS A COMPETITIVE ADVANTAGE
When dealing with intricate components or shapes, ready-to-use 3D metal prints outshine traditional manufacturing methods. Say goodbye to the challenges of designing, working with molds, labor-intensive finishing, warehousing, and extra logistics.
Experience the benefits of additive metal 3D printing for your business. Let's discuss how our services can meet your needs and improve your competitive edge.
Talk to our experts today to learn more about metal 3D printing and how it can transform your operations!
Metal 3D-Printing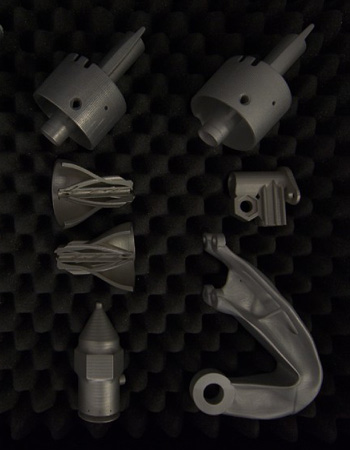 An alternative to machining or in combination.
Suitable for prototypes and small series
A cost-effective method
Durable end result
Reduces the need for assembly
Lighter weight