Plastic 3D Printing
PLASTIC 3D PRINTING BRINGS COST EFFICIENCY!
3D-printed plastic parts printed with industrial-grade production machines are comparable by their mechanical and chemical properties to parts made by traditional methods: 3D prints are mechanically very durable and also tolerate a wide range of chemicals. About 85% of all the prints we make end up being used in end use products and some of them in very harsh conditions.
Modern 3D printing of industrial plastics is ideal for mass production. We currently produce series of thousands of pieces for our customers every month and are constantly investing more in maintaining serial production capabilities.
The ease of product design also offers a superior advantage. If alterations to the products are needed, they can be made directly and quickly using the design software. No extra molding, no machining – production of redesigned pieces can start straight away with 3D printing.
Read more about materials and production.
3D PRINTING IS ECOLOGICAL AND COST-EFFECTIVE
3D printing offers a very ecological alternative for producing prototypes, parts and small series. The method is sometimes called additive manufacturing: as the name implies, only the necessary amount of material is added while printing. The powder bed fusion we use is based on a non-toxic method; a laser beam that melts materials. The raw material itself is also recyclable. In addition, molds and machining waste can be forgotten.
In comparison, the cost of production is also often much more reasonable, especially for prototypes and small series going for end product use. Thanks to the speed of production, the processes of product development and design are greatly faster.
When separate molds or machining are not needed, it is possible to manufacture difficult shaped pieces into ready to use parts. Of course, even a simple piece is often created faster and cheaper by 3D printing than casting or machining. That's why printing on plastic offers real competitiveness.
3D PRINTING OF PLASTIC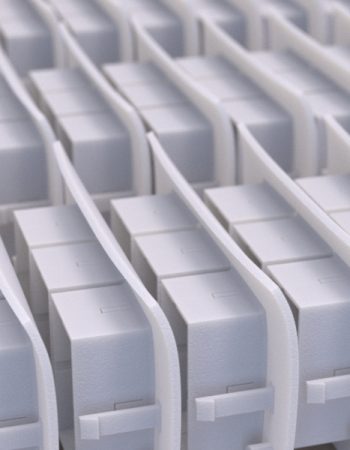 Cost effective
Ecological
Straightforward method
Suitable for mass production
Durable parts