Plastic 3D Printing
PLASTIC 3D PRINTING: YOUR COST-EFFICIENT & ECO-FRIENDLY SOLUTION
Experience the cost efficiency and versatility of plastic 3D printing with Materflow! Our industrial-grade production machines deliver 3D-printed plastic parts that boast mechanical and chemical properties comparable to traditionally manufactured parts. In fact, about 85% of the prints we produce are used in end-use products, with some even operating under harsh conditions.
As your industrial printing partner, we're committed to providing cutting-edge solutions for your production needs. Our modern 3D printing technology is perfect for mass production, enabling us to produce thousands of pieces for our clients every month. Plus, we're continuously investing in maintaining our serial production capabilities.
One major advantage of partnering with us is the ease of product design. If you need to make changes to your products, you can do so quickly and directly using design software. Forget about extra molding or machining – we can start producing redesigned pieces right away with our 3D printing technology.
Learn more about our materials and production process.
WHY CHOOSE 3D PRINTING? IT'S ECO-FRIENDLY AND COST-EFFECTIVE
Embrace an eco-friendly alternative for producing prototypes, parts, and small series with 3D printing. Our additive manufacturing approach ensures that only the necessary amount of material is used during printing. We employ a non-toxic powder bed fusion process that uses a laser beam to melt materials, and our raw materials are recyclable.
In addition to its environmental benefits, 3D printing can be a more cost-effective solution, particularly for prototypes and small series intended for end-use products. The speed of production enables faster product development and design processes.
With no need for separate molds or machining, we can manufacture complex shapes into ready-to-use parts. Even simple pieces are often created faster and more affordably with 3D printing compared to casting or machining, making plastic 3D printing a truly competitive choice.
3D PRINTING OF PLASTIC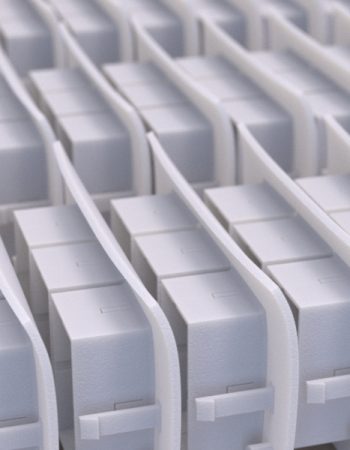 Cost effective
Ecological
Straightforward method
Suitable for mass production
Durable parts