SLM – Selective Laser Melting
SLM is a form of additive manufacturing and 3D printing developed specifically for printing metal alloys. It is one of the most common industrial 3D printing production methods for metal parts. The method is based on the Powder Bed Fusion (PBF) technique. SLM allows efficient production runs and intricate geometries for components in various metal materials.
The printing process takes place in an inert gas-protected chamber to prevent oxidation of the raw material, a fine-grained metal powder. The protective gas is either nitrogen or argon depending on the raw material. We employ three metal printing machines: SLM 280 HL for aluminum, Eosint M270 for stainless steel and tool steel, and ConceptLaser Mlab cusing for cobalt-chrome.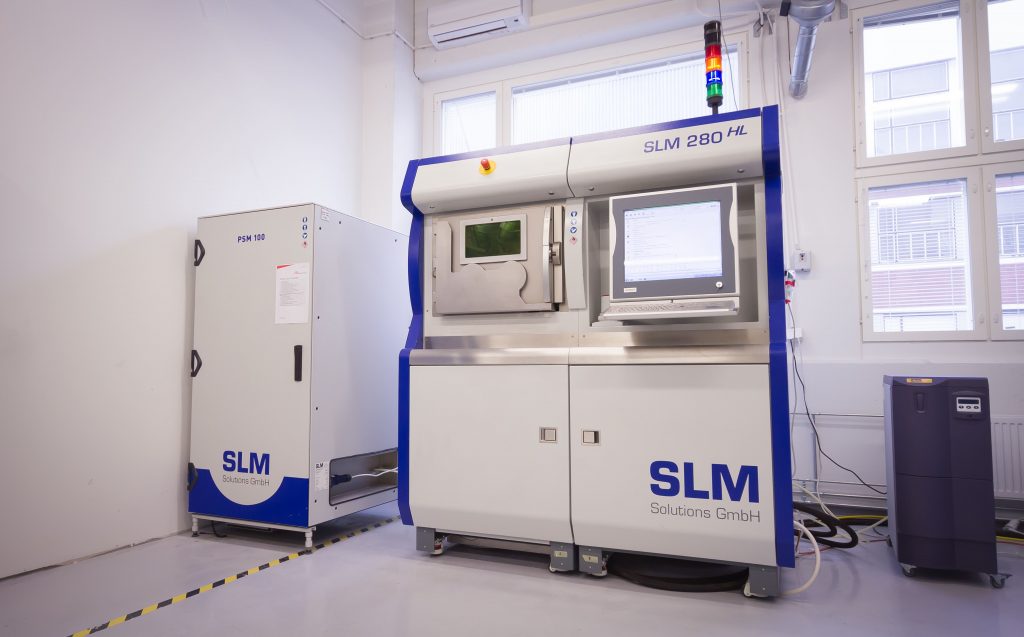 The SLM Process
SLM is based on a cyclical process in which the process is repeated until the production run is completed: The printing machine spreads an even layer of powdered metal on the build platform. The powder is then fused by a high-powered laser into a desired form. When the form is ready the production machine lowers the build platform according to the layer thickness and spreads a new layer of powder which is again fused by the laser. The process is repeated until the production run is ready. The diameter of the laser beam is extremely small which makes it possible to produce complex forms.
When in print mode the parts require support structures. The supports are used in metal printing to support the parts while printing and also for conducting the heat away from the body. The supports are printed with the parts connecting the parts to the printer's build platform.
The excess powder from the production run can be re-used through sieving. Other post processing procedures include annealing the printed parts, removing the support structures, and enhancing the surface quality with glass-bead blasting. Also polishing, electropolishing, and machining are common post processing procedures.
Optimised components
By optimising component models for SLM it is possible to create complex forms and parts. Another design and production advantage with additive manufacturing vs. subtractive manufacturing is the use of raw material: when designing a new component or optimising an old one the material should only be used where needed. Optimising the use of raw material cuts down the production time and overall costs. The optimisation process makes SLM a viable candidate when considering a method for mass produced metal parts.
SLM can also be used to supplement other production methods such as machining and casting when producing products with multiple components. By selecting the right components for SLM production the overall costs and production assembly time can be reduced and improved.
SLM is typically used to produce:
components produced in smaller series
components with complex geometry
weight-optimised components
mechanically demanding components
single components
molds and tools
specific and durable components
medical components
industrial spare parts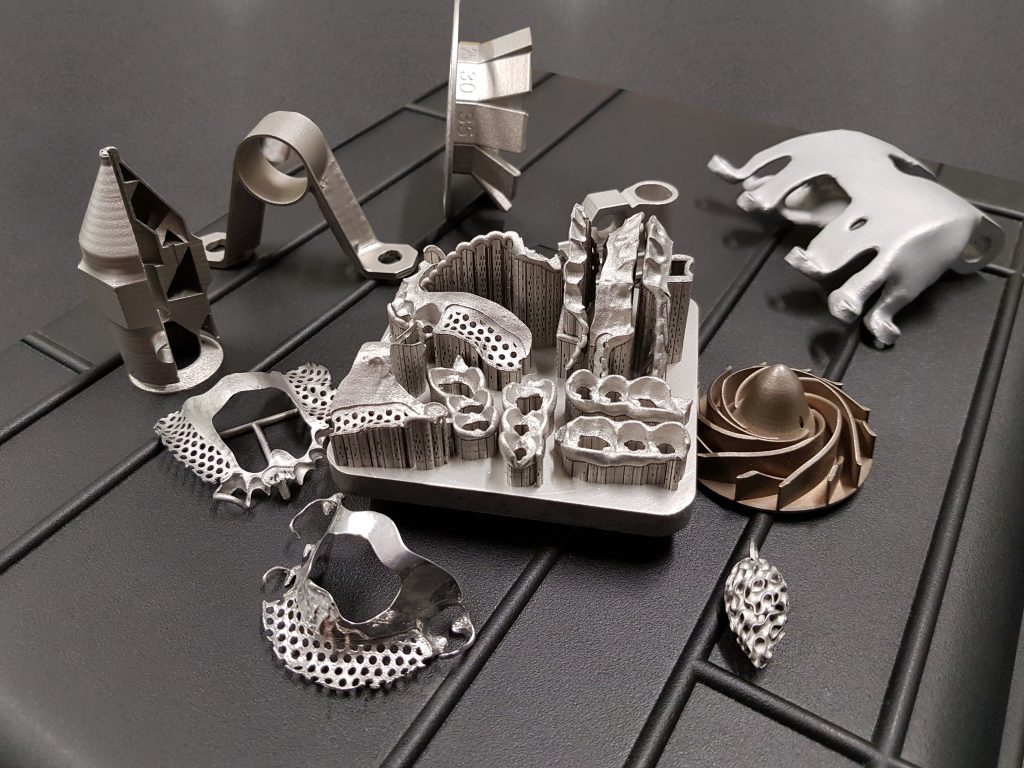 Materflow designs and produces 3D printed metal and plastic parts for industrial use. We also help our customers develop and implement 3D printing into their design and engineering processes. Read more about the design guidelines for metal parts and components or contact for more info